About us
TeamDrive is a software manufacturer that has specialized in creating solutions for secure collaborative work over the Internet.
It is our vision to give every computer user the option of saving his or her personal data and documents so they are safe from outside access and can be shared or worked on together with friends, colleagues or business partners in a straightforward way over the Internet. At the same time, control of all the data always remains with the users.
In addition, TeamDrive provides solutions and business models for telecommunication companies, ISPs and hardware and software manufacturers. Every part of the value creation chain involved in a "virtual personal data storage system that is available everywhere" is in a position to use new business models based on TeamDrive technology.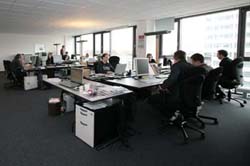 The TeamDrive technology is based on over 20 years of experience in the development of database and application server technology. Our databases are currently being used successfully on many hundreds of thousands of computers. The original team around Volker Oboda and Detlef Schmuck is driving forward the development of TeamDrive and the worldwide marketing of its technology. Paul McCullagh, CTO and Co-Founder of TeamDrive, previously invented the PrimeBase Database and the transactional storage engine PBXT for MySQL.
TeamDrive Systems, founded in 2008, is a privately held company.