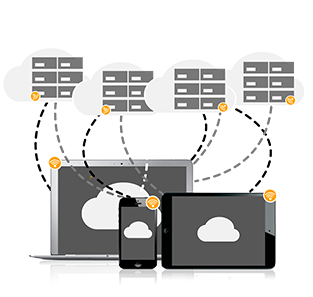 There are many areas of application in large companies for which TeamDrive represents the perfect complement to the existing IT infrastructure. The absolute confidentiality of data exchange and the self-administration of the teams are two key features here. In just a few minutes, a work space (folder) can be set up that is always available to the team in encrypted form even when they are off the company's premises.
Irrespective of whether a business has an IT infrastructure or not, with TeamDrive team members can organize group work as reliably, rapidly and securely as if they were working together in a networked open-plan office.
The problem is only too familiar. You are out of the office or at home, on a train or a plane, and you cannot access the new data and documents for ongoing projects. You only have older versions of files on your notebook – a considerable handicap, since your colleagues have been working on the documents. You urgently need up-to-date, recently created project materials, business documents, etc., but this is precisely the data that you cannot get a hold of. With TeamDrive, you and the other members of your team have the latest file changes on your desktop a minute after they have been completed. Results, instructions or notes can therefore flow into production processes and be dealt with more quickly and effectively.
TeamDrive never sleeps! At any time of the day or night, 24 hours a day, team members have access to current data and information for ongoing projects and receive everything directly on their PCs or notebooks. TeamDrive users can immediately receive, read and edit team data in the familiar desktop environment. Staff and colleagues have a continuous overview of progress. Data changes are communicated to the team immediately. TeamDrive can achieve over the Internet what is otherwise only possible in local networks: the optimal collaboration between team members in different regions with an uninterrupted flow of data. There is no need for an expensive network infrastructure. Installing TeamDrive on a PC or notebook makes those who work for medium-sized companies more mobile and less restricted by time. With TeamDrive, users run their back office on their PC or notebook and always have the latest data at their disposal, without having to worry about synchronization. In the office, at home or on the road – team members get the latest data wherever there is an Internet connection.
Companies can host TeamDrive in their own computer center upon request. TeamDrive is scalable to meet any needs.
Call us or send us an email to: sales@teamdrive.com