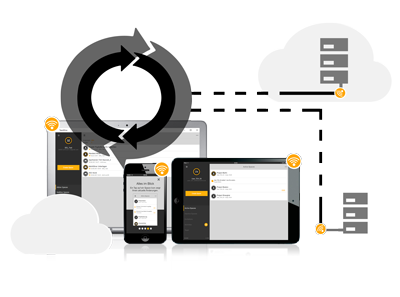 Take advantage of TeamDrive's simple to use Sync & Share solution whether the data is hosted in the cloud or on-premise using your our own hardware. Not only is TeamDrive a scalable and reliable solution, TeamDrive can be easily adapted to your needs. With TeamDrive you can offer your employees and customers a secure place to store their data, all the while maintaining complete control.
Simple and Secure collaboration
TeamDrive can be installed on mobile devices, computers and servers. Our new modern user interface has reduced multi platform collaboration to child's play.
High availability, load balancing and scalability
TeamDrive on-premise solutions can be quickly and easily installed, are low maintenance and require minimal system resources.
Setup Assistance and scalable Support
While installing TeamDrive is quick and easy, the software also offers many functions, which enable advanced scenarios and operation. For complex scenarios, or if you have any questions, please contact our support team.
External Authentication LDAP/AD/Shibboleth
TeamDrive supports external authentication. LDAP and Active Directory can be easily integrated. 2-factor authentication is also available.
Dependable and efficient - Secure and Seal Certified
TeamDrive undergoes extensive security testing by experts and the Independent Regional Centre for Data Protection on a regular basis. The security and reliability of your data is our priority.
TeamDrive Registration Server tasks
– Tenant management
– User management
– License management
– Management of the users' public keys
– The sending of secure messages to invite users
– The sending of secure invitation and registration emails
– Management of the connected hosting server
TeamDrive Enterprise Hosting Server tasks
The TeamDrive Enterprise Hosting Server stores all data encrypted and synchronized with a TeamDrive client. For each user a storage limit can be set.
The limit is assigned during the installation of the TeamDrive client. A traffic limit can also be assigned. The storage and traffic limits can be adjusted and assigned using the administration console or an API.
The TeamDrive Hosting Server uses a database to manage the amount of storage and the resulting traffic for users. This data can be used to calculate costs. The hosting server itself is also multi-tenant capable and can use multiple, connected, storage systems.
All servers are easily scalable and can be installed as high availability servers.
If you would like to request a copy of our white paper or would like an individual offer, please contact us at: sales@teamdrive.com